Oceans Divide Us
with
Growlers
All Ages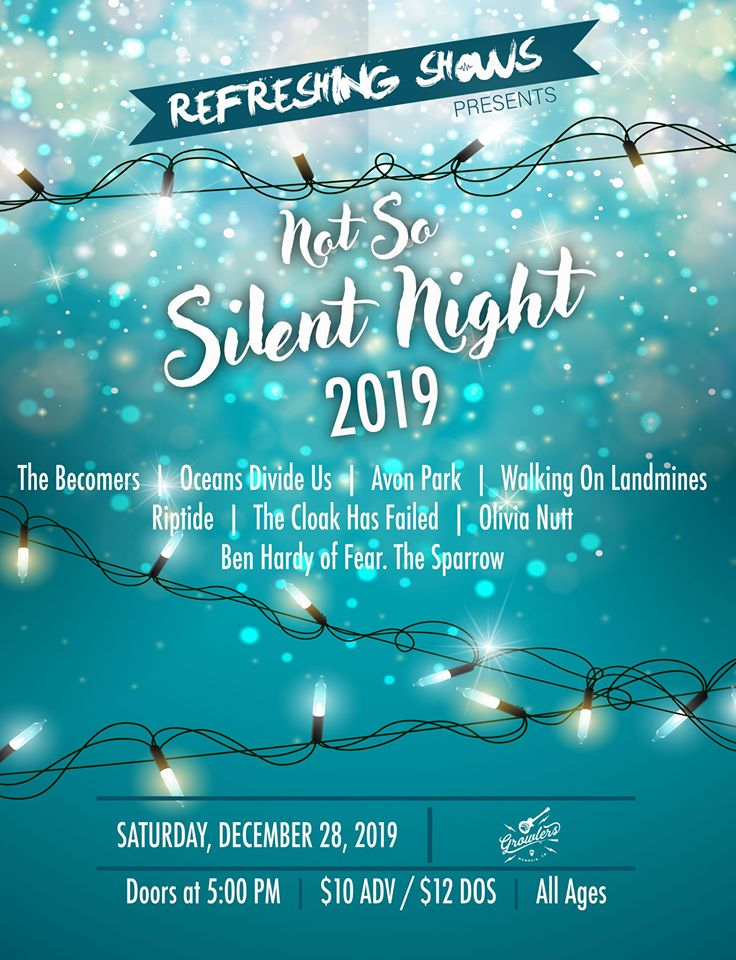 Additional Info
It's about to be 2020. Let's crank it up to eleven and ring in the new year.
NOT SO SILENT NIGHT
Saturday, December 28, 2019
@
Growlers
Doors at 5:00 PM
$10 ADV / $12 DOS
All Ages
F E A T U R I N G
The Becomers
Rock and Roll from Memphis, TN
The Becomers are a three piece band of young multi-instrumentalist prodigies (ages 7-12), swapping instruments from song to song incorporating drums, bass, ukulele, guitar, synthesizer, and vocal harmonies into their eclectic mix.
Oceans Divide Us
Hard Rock from Memphis, TN
For fans of Killswitch Engage, Sevendust, and Trivium.
Avon Park Band
Melodic Rock from Memphis, TN
Walking On Landmines
Dissonant Hardcore from Memphis, TN
New EP, "yes, absolutely", available now.
OfficialRiptide
Metal from Memphis, TN
The Cloak Has Failed
(Debut Show!)
New Band from Memphis, TN
Passion and spirit have gotten lost in technology and growing lax. Music will be the doorway with which they offer reawakening.
Olivia Nutt
Singer / Songwriter from Memphis, TN
Ben Hardy (of
Fear. The Sparrow
)
Acoustic from Memphis, TN
Ben Hardy is the frontman of Fear. The Sparrow (who have new music coming early 2020.)
————
Refreshing Shows
Booking & Events in Memphis, TN
Instagram: @refreshingshows
Twitter: @refreshing901
ALL UPCOMING SHOWS:
Celebrating Fifteen Years of 2004
- Saturday, November 30 @ Growlers (featuring
The Ellie Badge
covering My Chemical Romance's "Three Cheers For Sweet Revenge" IN ITS ENTIRETY!)
Local Xmas
- Friday, December 6 @ Growlers (with
LOCAL X Radio
)
Celebrating Twenty Years of 1999
- Friday, December 27 @ Growlers (featuring
ReFrame
covering Rage Against The Machine's "The Battle of Los Angeles" & Incubus' "Make Yourself"!)
Nu Metal Nu Year
- Sunday, December 29 @ Growlers
Artists
Oceans Divide Us