Lola Montez
with Under the Radar, Capulet, Magnum Dopus
Fri,
Apr 19
@ 8:00 pm
( Doors:

7:00 pm

)
Growlers
All Ages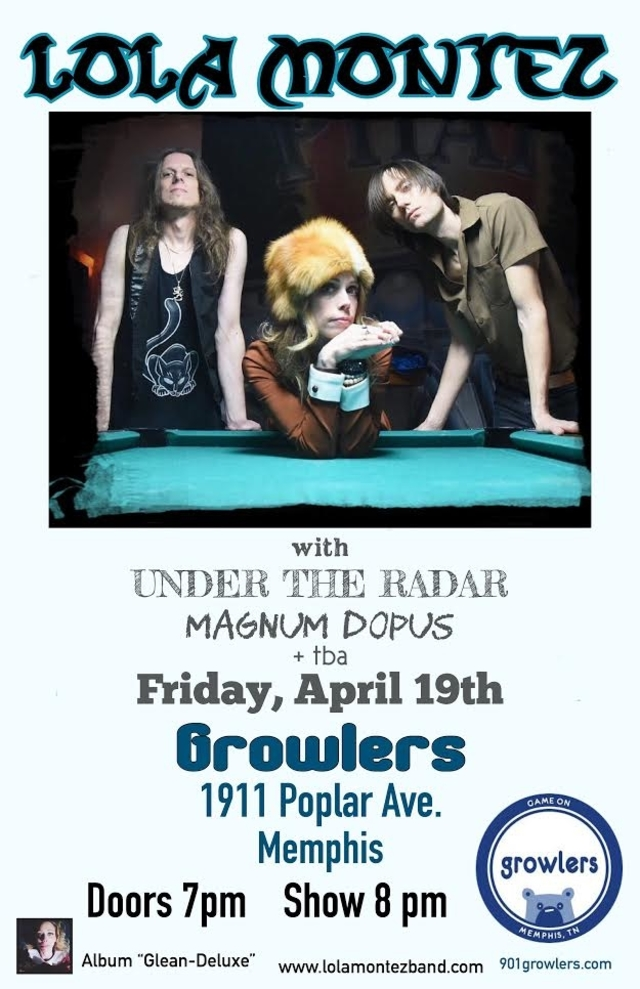 Additional Info
Lola Montez sounded. Inga Rudin, the band's vocalist, is so pretty that it takes a second to focus on what is happening, to be quite honest. However, this is not a band that relies on this fact, as the guitarist, Blake Scopino, for this Nashville-based band showed with a sound that was original in much the same way that Rage Against The Machine's Tom Morello is.
Like Morello, his chops were not only on point all set long, but his breaks were not easy to play and highly technical in some places. Though not a glam band, their showmanship was not lacking, with Rudin even venturing into the crowd, dancing erotically on tables, and high-fiving the crowd while on a wireless mic.
Their fill-in bassist, Sebastian Baltes, is the son of Peter Baltes, bassist for metal pioneers, Accept. This explains how he learned such complicated parts in less than a week! "He [his dad] has been doing it since the 70's," Baltes said proudly of his father. Andy Sneap, now of Judas Priest, produced Accept's latest offering as well as others, and he voiced his praise for Sneap's fortune during our interview. "That is right up his alley. We were all so very happy for him when we heard that he got the gig in Priest [VIDEO].
As for the Rudin, her voice is reminiscent of Janet Napolitano (Concrete Blonde), Jefferson Airplane (who they cover with an almost fusion funk bass line via "White Rabbit," their closer) or the under-rated Motels. Songs like "Monster" were powerful, intricate, and delivered concisely. This track began a bit like Pink Floyd's "Run Like Hell" and only went crazier from there.
Artists
Lola Montez
Under the Radar
Capulet
Magnum Dopus