Kenopsia
with
Growlers
All Ages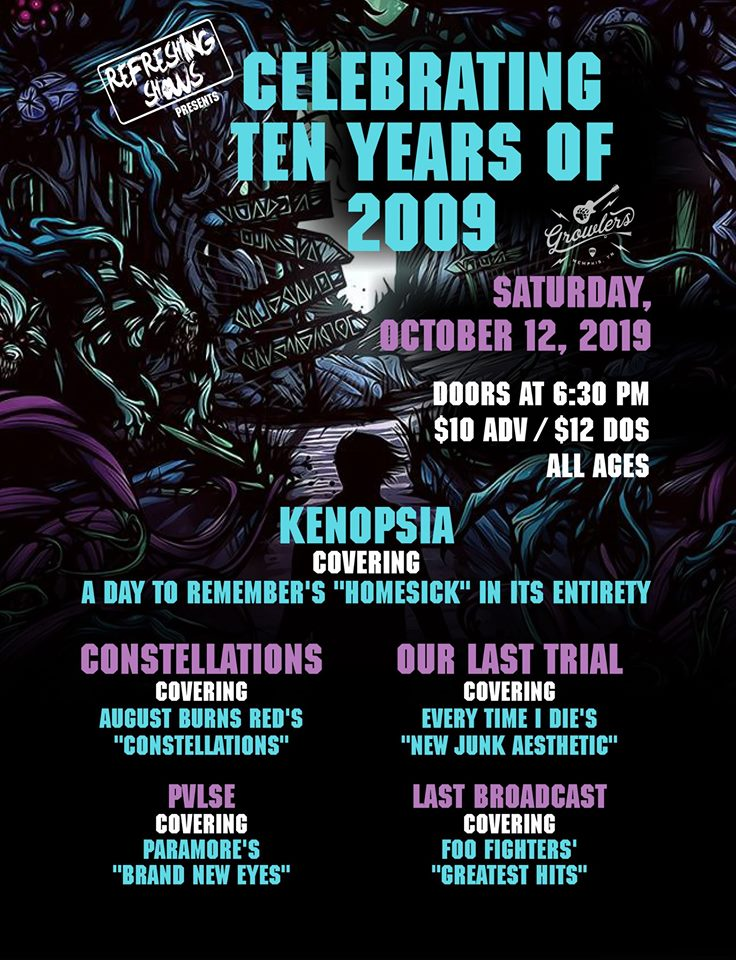 Additional Info
Refreshing Shows
is debuting an exciting new concept series of shows for later this year. The theme is simple: great albums will be highlighted that were all released in certain years. Up first is 2009, and what a decade of excellence it has been!
CELEBRATING TEN YEARS OF 2009
Saturday, October 12, 2019
@
Growlers
Doors at 6:30 PM
$10 ADV / $12 DOS
All Ages
FEATURING THE MAIN EVENT:
Kenopsia
Heavy Rock / Metal from Jonesboro, AR
Kenopsia will be performing A Day To Remember's "Homesick" album **IN ITS ENTIRETY!**
The Downfall of Us All
My Life For Hire
I'm Made of Wax, Larry, What Are You Made Of?
NJ Legion Iced Tea
Mr. Highway's Been Thinking About the End
Have Faith In Me
Welcome to the Family
Homesick
Holdin' It Down for the Underground
You Already Know What You Are
Another Song About the Weekend
If It Means a Lot to You
WITH OPENING BANDS:
**Performing select songs from each album**
Constellations
// August Burns Red's "Constellations" //
Metal from Jackson / Nashville, TN
Constellations is comprised of members of
ŌBLEAK
,
Greymane
, and
Divisive
.
Our Last Trial
// Every Time I Die's "New Junk Aesthetic" //
Metalcore from Nashville, TN
For fans of August Burns Red, Miss May I, and Silent Planet.
Pvlse
// Paramore's "Brand New Eyes" //
Pop Rock from Nashville, TN
For fans of Paramore and Hey Monday.
Last Broadcast
// Foo Fighters' "Greatest Hits" //
Rock from Memphis, TN
Artists
Kenopsia