Joshua Ketchmark
with
Sun,
Oct 20
@ 4:00 pm
( Doors:

3:00 am

)
Growlers
All Ages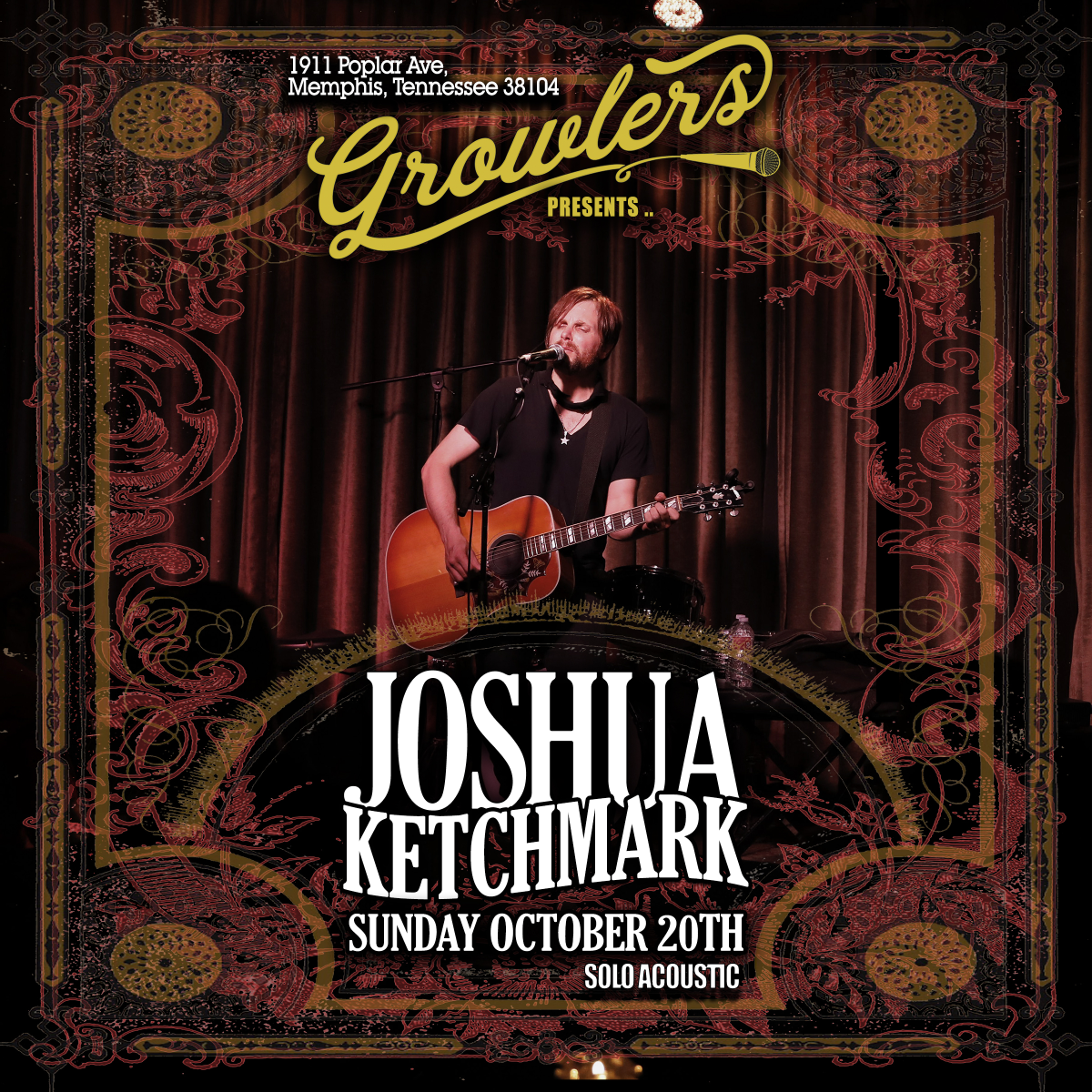 Additional Info
Sunday October 20th, 2019
3:00PM Doors / 4:00PM Show
$5 ADV / $8 DOS
Joshua Ketchmark
I could tell you that I'm the best-kept secret in Rock and Roll but I don't really think that would be true. The whisper in the hall, maybe, kind of like that band everyone says was so cool before they became famous. I can't say any of that best describes me. What I can tell you is I feel pretty fortunate to live the life I live. That said, I will tell you I've never liked Star Wars; the Phantom Menace until one afternoon Mellissa Ethridge put it on and sat down next to me. I can say that I think it's cool that I've recorded and worked with the same players/engineers and producers who have worked with Elvis Costello, Don Henley, Ryan Adams; or even that Gene Simmons still owes me six bucks. Being from a small town outside Peoria, Illinois, to me, that's pretty cool. At the very least, it makes for a good story. So settle in for a sec', cause I'm about to tell ya one.
So, Me. I grew up in a small town outside Peoria, Illinois, attended Catholic school until sixth grade, then public school after that up until I graduated high school. My earliest musical influences consisted of any artist saturating the airwaves in the early 1980s. Once I discovered my parents record collection-the Beatles and Queen. I got Prince (Purple Rain) for my birthday one year from a family friend, and later, Mellencamp, the list is endless. If it made the radio I was obsessed with it.
The birth of MTV drew me to the guitar. I just thought it looked cool. So I dug my mother's dusty acoustic out of the downstairs closet and started working on my poses. I went from learning simple riffs, to writing songs, then to garage jam sessions, and on to basement rehearsals. I played a handful of local shows in the area, even won a battle of the bands and got some free studio time out of it. Where the songs are from that recording session is anyone's guess.
After high school I moved to Nashville, Tennessee for a handful of years, where I continued writing songs, tracking demos, and playing local clubs. Though during that time I heard a whisper in the back of my mind; California was calling. I had already been kicking around Los Angeles a couple times a year at that point. I don't know if it was fate, luck or something entirely different.
When the call came to join an LA based band, I didn't say no. Six months of traveling back and forth from Nashville to Hollywood for recording sessions and showcasing, gave me a great opportunity to see some of the country. With everything lining up and looking like it could take off at any second, I made the move. Leaving Tennessee behind, I never could have predicted that in just six short months it would all be over.
Artists
Joshua Ketchmark